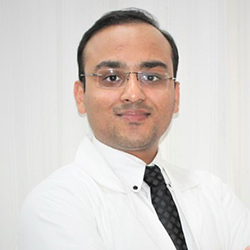 Dr. Ankit Varshney
Consultant
Brief Profile
MBBS, MS (Orthopaedics), FASM Arthroscopy and Sports Orthopaedics Fellowship, Mumbai Shoulder and Sports Trauma Fellowship, South Korea Orthopaedic Sports Medicine Fellowship, Singapore
Advanced Arthroscopy of all joints
Sports and Regenerative Medicine
Stem Cell Treatment – PRP/PRF Injection, BMAC etc.
Joint Preservation - Osteotomies
Knee – Ligament, Cartilage and Meniscus surgery
Shoulder Surgery
OPD Schedule
The Following schedule may be subject to change. Kindly contact on reception SPH Civil Line 011-23994401-10, EXT-412
| Days | General OPD | Private OPD |
| --- | --- | --- |
| Monday | N/A | 02:00 PM to 04:00 PM |
| Tuesday | N/A | N/A |
| Wednesday | 9:00 AM to 10:30 AM | 02:00 PM to 04:00 PM |
| Thursday | N/A | N/A |
| Friday | N/A | 02:00 PM to 04:00 PM |
| Saturday | N/A | 02:00 PM to 04:00 PM |
This is kind notice that General and Private OPD and IPD for Orthopedic Department has been shifted to Sant Parmanand Hospital, Yamuna Bazar Plot no 1,2&3 yamuna bazar Delhi 110006, Please contact for an appointment at 011-3538-6000 Ext. 121/113
* Above inforamtion are subject to change without prior information. kindly contact department reception
Dr Ankit Varshney is an Orthopaedic surgeon who has already made a name for himself in the field of Sports Medicine. He has successfully treated many renowned sportspersons including cricketers, wrestlers, boxers, athletes, shuttlers, and cyclists. A passionate sports orthopaedic and arthroscopy surgeon, he is known for his precision in diagnosing sports injuries and shoulder ailments and treating them using minimally invasive arthroscopic techniques to not just minimise recovery time but also ensure a speedy return to sport.
Common Conditions Treated
Knee – Ligament Injuries (ACL, PCL etc.), Meniscus Tear, Cartilage Injuries, Knee Cap Dislocation etc.
Shoulder- Rotator Cuff Tears, Frozen Shoulder, Shoulder Dislocations etc.
Sports Injuries – Hamstring Tear, Achilles Tendon Injury, Stress Fractures, Muscle Tears etc.
Tennis/Golfer's Elbow, Runner's Knee, Shin Splints etc.