Consult with Best General Physician in Delhi
The General Medicine/Internal Medicine department at Sant Parmanand Hospital provides 24×7 consultant based coverage for Emergency Services, Intensive Care Unit Patients and other patients admitted in the Hospital. This enables prompt response not only for the Acute Emergency conditions but also for the routine admitted patients. The consultants in the Medicine Department have different fields of interest and complement each other in providing state-of-the-art facilities for a plethora of Medical specialties and super-specialties.
Sant Parmanand Hospital one of best private hospital for Internal Medicine and Cardiac Treatment. We have facility of treating disorders of digestive system, liver, bladder, thyroid and stomach, also care of Blood Suger and Hypertension. 24×7 A team available in ICU And CCU and best medical facilities.
The department conducts free General OPD every day from 8:30am to 10:00am and attends to over more than 25,000 patients in a year in the General OPD.
Apart from this the Consultants also conduct their Private OPD on a daily basis.
The Department is headed by Dr. B. K. Agarwal (MD, Medicine) 30+year expertise. He has a vast experience of more than 30 years in this specialty. He has been heading Medicine units since a very early period in his career and continues to be very actively involved in teaching & clinical research.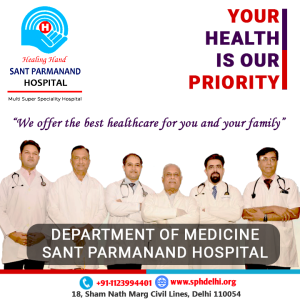 The Department of Medicine at Sant Parmanand Hospital was started in October 1997 when the hospital was converted into a Multi-super Specialty Tertiary Care Hospital. Over the years the department has shown steady progress. It has a faculty of 9 Senior Consultants which bring a wealth of varied clinical experience.
The department conducts CME & participates actively in the academic activities conducted by the hospital. The faculty members attend a large number of national and international conferences & have also published  papers in National Journals.
Treatment by Department of General Medicine/Internal Medicine
Following conditions and diseases are treated by Department of General Medicine/Internal Medicine:
Obesity
Dyslipidemia
Diabetes
Thyroid Disorders & Malfunctions
Headache
Hypertension
Anxiety
High Cholesterol
Heart Disease
Osteoporosis
Respiratory Infections
Cough
Joint Pain
chest pain
Influenza
Fever
Asthma
Liver Diseases
Abdomen Pain
Pneumonia
Vitamin Deficiency
---
The faculty of Medicine comprises of:
Dr. B. K. Agarwal (M.D.)
Dr. Arun Moondhra (M.D.)
Dr. L. K. Mehta (M.D.)
Dr. Rajesh Sonkusare (M.D.)
Dr. Chetan Kumar Jain (M.D.)
Dr. Aman Rohatgi (DNB Medicine)
Dr. Aastha Gupta (M.D.), PG (Endocrinology)