Sant Parmanand Hospital as a leading General and Advance Laparoscopic Surgery Hospital in Delhi, India. Department has a most skilled and highly experienced team of general and laparoscopic surgeons supported by Nursing & Resident Staff offering their services round the clock. For excellent pre and post-operative cares the Department of Anesthesia and Intensive Care Unit (ICU) has excellent services.
For treatment of various sub specialities of gynecology, gastroenterology and urology our team of surgeons has intense expertise in Laparoscopic and minimal Invasive surgeries. Thus to reduce the any complications and ensure the happiness pf patients the Department of surgery is equipped with Modular OT, state of Art and Modern surgical equipments like high definition endovision and vessel sealing system.
The department is headed by Dr. Pradeep Kumar Misra, one of the first surgeons to perform laparoscopic procedures. Trained in Gastro – Intestinal surgery and GIendoscopy, his interests include therapeutic ERCP, Upper and Lower GI Endoscopy.
The Department of Surgery was started at Sant Parmanand Hospital in October 1997 when it was converted into a multi–speciality tertiary care hospital. Over the years the department has shown steady progress and now boasts of twelve senior consultants.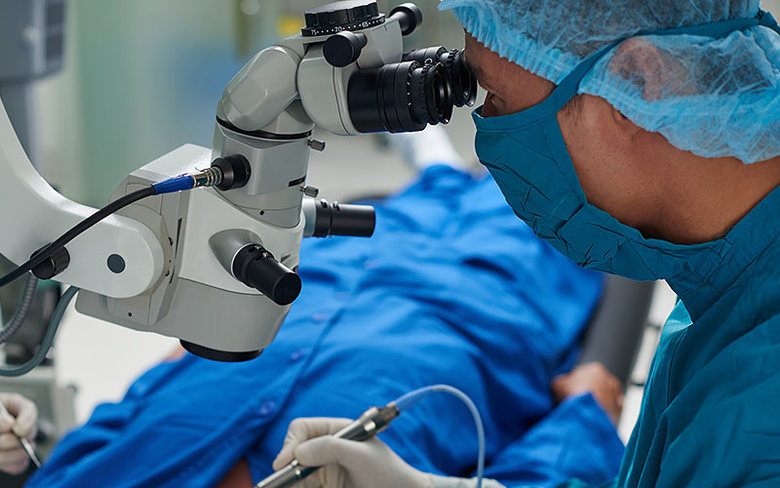 From the outset the department has had a special interest in minimal invasive surgery. Apart from routine laparoscopic gall bladder surgeries, advanced minimally invasive surgical procedures such as hernia, anti – reflux procedures, gastrectomy for cancer of the stomach, colectomy for cancer of the colon are performed. Major open surgical procedures are also undertaken.
Minimally invasive Urological procedures eg. Nephrectomy, Pyeloplasty, PCNL and TURP are commonly performed. Allied departments of Neurosurgery, Plastic, Paediatric and Maxillofacial Surgery carry out complex procedures for brain tumours,aneurysms, re-implantation of amputated limbs, cosmetic procedures and Neonatal surgery. In collaboration with an American NGO, the "Smile Train" program offers free of cost repairs of cleft lip / palate.
Over 7000 patients attended the free OPD's of general surgery and allied specialities and 1575 operations were performed. Faculty members attended a large number of national and international conferences during the year.
Following are some common procedures and treatments by Department of Surgery:
Advanced Laparoscopic Surgery for Gall Bladder, Hernia, Spleen, Colon, Cancer etc.
Appendix Treatment, Gall Bladder Removals, Hernia Treatment, Biliary Disease Treatment.
Biliary Tract Disease and Pancreatitis, Endoscopy, Colonoscopy.
Abdominal & Gastroenterological Surgery.
Liver Cyst Treatment, Treatment for Biopsy Lymph Nodes.
Treatment of Laparoscopic Cholecystectomy.
Gall Bladder Stones Treatment.
Minimal Invasive Surgery.
Major Gastro-intestinal procedures, Intestinal Surgery and GIendoscopy
Oncosurgery for Cancer of Breast, Thyroid, Stomach, Gall Bladder, Colon etc.
Paediatric & Neonatal Surgery.
Neurosurgical Procedures.