Head of the Department Cardiology, Artemis Parmanand Heart Center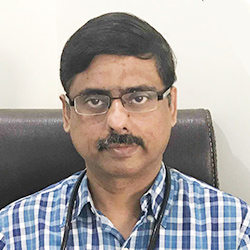 Dr. Subrata Lahiri
Senior Consultant
Brief Profile
MBBS, MD,DNB(Cardiology), FESC (DMC Regd. No- 6679)
Coronary angiography, Coronary Angioplasty through radial route (Arm) Pacemakers, ICDs, CRT
Senior Consultant & Head of the Department Cardiology
OPD Schedule
The Following schedule may be subject to change. Kindly contact on reception SPH Civil Line 011-23994401-10, EXT-412
| Days | General OPD | Private OPD |
| --- | --- | --- |
| Monday | N/A | 09:30 AM to 04:00 PM, ROOM NO. 408/409 |
| Tuesday | N/A | 09:30 AM to 04:00 PM, ROOM NO. 408/409 |
| Wednesday | N/A | 09:30 AM to 04:00 PM, ROOM NO. 408/409 |
| Thursday | N/A | 09:30 AM to 04:00 PM, ROOM NO. 408/409 |
| Friday | N/A | 09:30 AM to 04:00 PM, ROOM NO.408/409 |
| Saturday | N/A | 09:30 AM to 04:00 PM, ROOM NO. 408/409 |
This is kind notice that General and Private OPD and IPD for Orthopedic Department has been shifted to Sant Parmanand Hospital, Yamuna Bazar Plot no 1,2&3 yamuna bazar Delhi 110006, Please contact for an appointment at 011-3538-6000 Ext. 121/113
* Above inforamtion are subject to change without prior information. kindly contact department reception
Dr. Subrata Lahiri has experience of more than 20 years in the field of interventional cardiology. He is head of the department of cardiology Artemis Parmanand Heart Center.
---
He has done more than 2000 coronary angioplasties to his credit. he is a pioneer in doing coronary angiography and angioplasty from the arm (radial route) which facilitates early recovery of patients and thus decreasing hospital and improving patient care. He is versatile in his field and is an expert in pacemaker implantation, ICD implantation, arrhythmia management, carotid angioplasties, renal angioplasties. Apart from his work experience, he has knowledge for writing papers in national medical journals. He has is an eminent speaker and has participated as faculty in national and international cardiology conferences.
He is a lifetime member of the Cardiology Society of India, a member of National Academy of Medical Sciences, a member of American College of Cardiology and Indian Medical Association.
Treatment of Cardiovascular Diseases
Heart problems with Hypertention and Diabetic
Blood clots and damaged vessels.
Angina,
Arrhythmia, 
Heart Attack, 
Heart Failure, 
Rheumatic Heart Disease, 
Congenital Heart Disease
Valvular Heart Disease