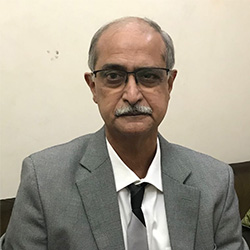 Dr. Raj Kumar Chaudhary
Consultant
Brief Profile
Sr. Consultant of Urology Department
OPD Schedule
The Following schedule may be subject to change. Kindly contact on reception SPH Civil Line 011-23994401-10, EXT-412
| Days | General OPD | Private OPD |
| --- | --- | --- |
| Monday | 09.00 AM to 11.00 AM, ROOM NO. 215 | 11:00 AM to 2:00 PM |
| Tuesday | N/A | 11:00 AM to 2:00 PM |
| Wednesday | 09.00 AM to 11.00 AM, ROOM NO. 215 | 11:00 AM to 02:00 PM |
| Thursday | N/A | 11:00 AM to 2:00 PM |
| Friday | 09.00 AM to 11.00 AM, ROOM NO. 215 | 11:00 AM to 2:00 PM |
| Saturday | N/A | 11:00 AM to 2:00 PM |
This is kind notice that General and Private OPD and IPD for Orthopedic Department has been shifted to Sant Parmanand Hospital, Yamuna Bazar Plot no 1,2&3 yamuna bazar Delhi 110006, Please contact for an appointment at 011-3538-6000 Ext. 121/113
* Above inforamtion are subject to change without prior information. kindly contact department reception
Dr. Raj K.Choudhuri, a senior urologist, is a well known name in Endourology (specially PCNL) in Delhi. He has more than 30 years of experience in Urology. He did his post-graduation (Mch) from CMC, Vellore (India).
He was independently running an unit and performing all urological operations including Kidney Transplantation and was also involved in teaching programme (DNB), at Sri Satya Sai Institute of higher Medical Sciences (SSSIHMS), Puttaparthy.
He had developed Urology departments at various hospital in Delhi and Noida, e.g. St. Stephens Hospital, Max hospital, pitampura, Balaji Action Hospital, B.L.Kapoor Hospital, Metro Hospital, Noida.
He is attached with Indraprastha Apollo Hospital, Sarita Vihar since 1999.
He has been working as Senior Urologist at Sant Parmanand Hospital since 1998.
His special interest is in
Endourology :PCNL, RIPS, URS, TRUP etc.
Reconstructive Urology : Pyeloplasty, Urethroplasty etc.
Uro-oncology : Radical Nephrectomy, Radical Prostatectomy, Radical Cystectomy etc.
He is available at Sant Parmanand Hospital daily (11.00am to 2.00pm)
for an appointment contact to 011-23994401-10 lines ext- 215
Mobile: 8800545836