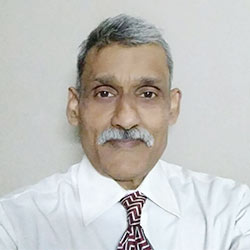 Dr. Praveen Gupta
Consultant
Brief Profile
MD, DTCD, DNB (Resp. Med.) AFSA (France) Fellow European Respiratory Society, Switzerland
Specialized Interventional Pulmonology/Bronchology Procedures
Sr Consultant Respiratory
K 3/12 Model Town Delhi-110 009
drpraveengupta@rediffmail.com
OPD Schedule
The Following schedule may be subject to change. Kindly contact on reception SPH Civil Line 011-23994401-10, EXT-412
| Days | General OPD | Private OPD |
| --- | --- | --- |
| Monday | N/A | N/A |
| Tuesday | N/A | N/A |
| Wednesday | N/A | N/A |
| Thursday | 9.00 AM to 10.30 AM, ROOM NO. 417 | 11.00 AM to 01.00 PM, ROOM NO. 417 |
| Friday | N/A | N/A |
| Saturday | N/A | N/A |
This is kind notice that General and Private OPD and IPD for Orthopedic Department has been shifted to Sant Parmanand Hospital, Yamuna Bazar Plot no 1,2&3 yamuna bazar Delhi 110006, Please contact for an appointment at 011-3538-6000 Ext. 121/113
* Above inforamtion are subject to change without prior information. kindly contact department reception
By virtue of his specialized institutional training in Interventional Pulmonology/Bronchology/Oncology & Intensive care with experienced mentors and pioneers at well renowned European Centres in France, Germany, Italy & U.K he was privileged in gathering an extensive experience in all invasive instrumentation procedures. This European experience opened up new frontiers to improve his perception and utilization of new approaches in Chest Medicine.
FOCUS OF PRACTICE : Routine & Interventional Pulmonology & Intensive Care
*Flexible fiberoptic & Rigid VideoBronchoscopy
*Pulmonary Invasive / Interventional Procedures-
having widespread applications in Laryngology, Bronchology &
Pulmonology for both diagnostic and therapeutic purposes.
1.Rigid / Fiberoptic Bronchoscopic Airway Stenting / Prosthesis placements
2..Laser Bronchoscopy- using Nd : YAG / CO2 , YAP lasers etc.
3.Cryotherapy & H-F Electrocoagulation for tracheo-bronchial disorders
4.High dose Endobronchial Brachytherapy
5.Autoflouresence Bronchoscopy
6. Medical Thoracoscopy- diagnostic & therapeutic
7. Ultrasound guided fiberoptic Bronchoscopy (EBUS)
8. Transbronchial needle aspiration (TBNA) & Trans thoracic Percutaneous needle
aspiration (PCNA)
9. Echo Endoscopic FNAC( Endo- Esophageal Ultrasound : EUS-FNA)
10. Broncho-pleural fistula closure using Spongiosa bone technique
11. Percutaneous Dilatational Tracheostomy
*Respiratory/Intensive/Critical Care Medicine