Home »
Lecture »
Re-Revision Total Hip Replacement
Re-Revision Total Hip Replacement
Publish Date: September 17, 2020
55 years old lady came to us with complaints of left hip pain and difficulty in bearing weight on left lower limb for the past 3 months. She underwent hip replacement surgery (THR) in 1995 followed by revision THR (2000 & 2008) elsewhere. On Clinical examination there were no signs of infection. There was shortening of 4 cm on left side.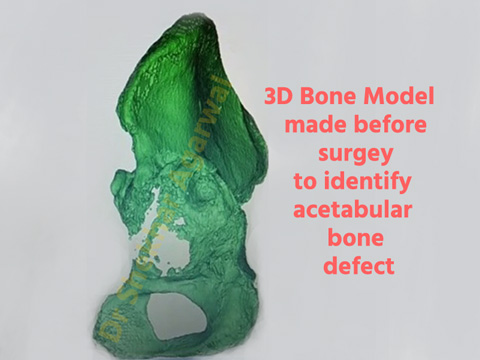 Infection markers were negative. Preoperative x ray showed aseptic loosening of both acetabular socket and femoral stem. There was huge defect in acetabulum. We further evaluated this case with CT scan which showed large anterior and superior bone defect while the posterior bone stock was good. We also prepared a 3D model of acetabulum preoperatively to study the defect and procure all the implants as backup for filling the defect. This 3D model was made under the guidance of Dr Shekhar Agarwal and team.
3D printing is the latest technology in Orthopaedics where we can have actual 3D model of bone and plan our surgery accordingly. 3d model exactly replicates actual bone defects which helps the surgeon to plan the surgery.
At Sant Parmanand Hospital we have this facility of 3D printing that we use in cases of difficult surgeries. As per our preoperative planning we did revision THR. Allograft bone was used to fill the acetabular defect and Trabacular metal jumbo acetabular cup was used. Uncemented long stem Wagner femoral stem was used on the femur. Now patient is comfortable and walking with support.